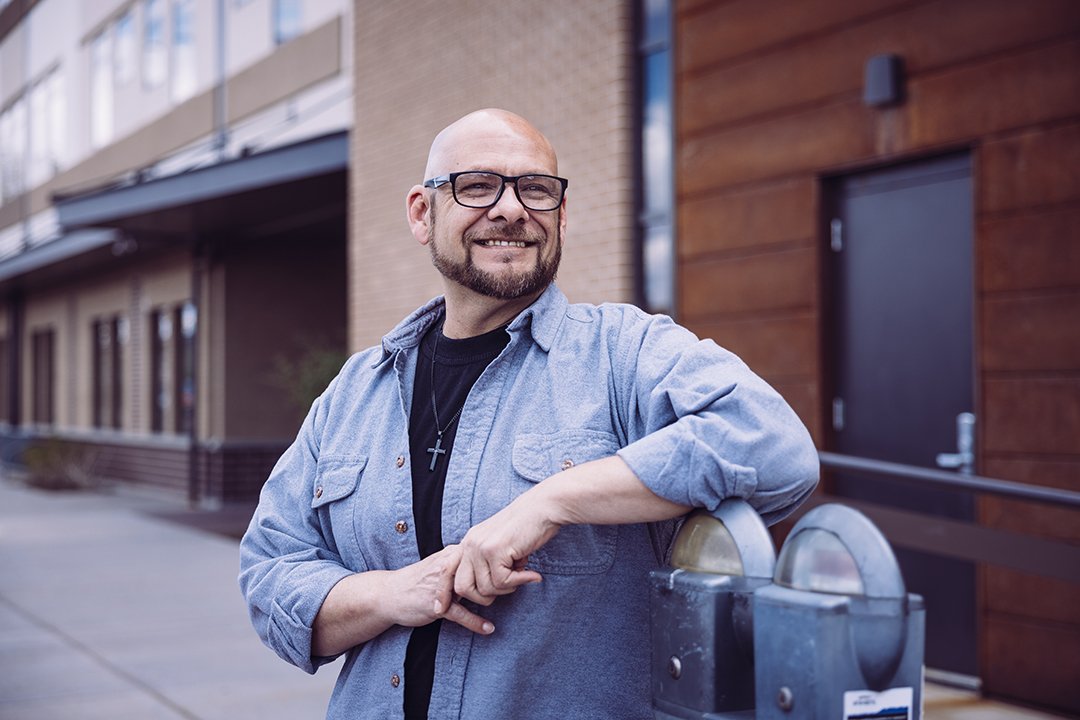 26 May

Meet Evan
Thank you for loving your neighbor, Evan,
and giving him hope for the future!
"Once you've crossed that line, you can't go back… not by yourself."
That's what Evan says today about the alcohol abuse that plagued many years of his life. Struggling with a sleeping disorder, he began drinking as a form of self medication, which gradually escalated to addiction.
Over the years, it impacted his relationships with loved ones… his ability to trust others… and finally his health. After three episodes of alcohol poisoning that nearly cost him his life, he knew he had to change, or he would die.
He left his job as a chef to return home to California, thinking he might benefit from a new environment. But before he could catch the plane, he ran into a friend who worked at the Mission. Evan knew our outreach well – as a Christian musician, he often participated in our worship services. But he'd never considered seeking God's help in his own time of need. When the friend suggested that's what God might want him to do, Evan agreed to give our Recovery Program a try.
"It's one thing to believe in God, but another to give Him your life and let Him run it."
While skeptical at first, he soon felt comfortable in our Christ-centered environment, surrounded by our faith-filled staff and mentors. "When you believe God is who He says He is, then you can begin to trust others, too," he says.
As an experienced chef, he embraced the opportunity to serve in our kitchen. And he continues to bless us with his music, with renewed joy and vigor.
But most importantly, he's cherishing this time to study the Bible, heal his destructive habit and become the man God intended him to be. "I'm learning to be patient with myself, my family, even strangers," he says. "I'm no longer living for myself. It's what we can do for others in this life that counts."
Evan is thankful for the way you have answered God's calling to love your neighbor as yourself – and have helped him learn how to love himself. "Even though God was part of my life, He was in the back seat. I want Him in the driver's seat now."
To read our current issue of The Beacon, click here.
Help other people like Evan…
His story of hope and healing is inspiring. Our long-term recovery programs exist to help other men and women find healing. Will you provide this help to others?
DONATE TODAY!